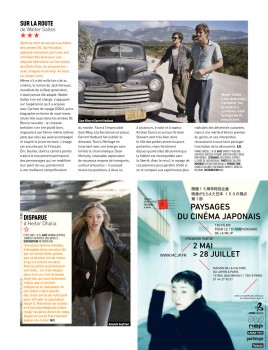 After the death of his father in the beginning of the 50's, Sal Paradise, young writer, go with his friend Dean Moriarty for a liberating odyssey on US roads. On the menu : sex, drugs and be-bop. At the end, a mythic novel.

Even if it has been quoted a thousand times in theater, Jack Kerouac's novel, manifesto of the Beat Generation, had never been adapted. Walter Salles did it, with the experience he gained thanks to The Motorcycle Diaries, another road movie-biography happening in the 50's. Good news : the Brazilian director did pretty well, imposing to its movie the same jazzy rhythm as the one who inspired the young writer years before. Eric Gauthier is behind the camera, and the fact that he shoots with the camera on his shoulder conveys the permanent movement of the characters, who by changing their points of view, managed to have a better comprehension of the world. In front of the perfect Sam Riley, witness and actor at the same time, Garrett Hedlund make us forget the disappointing ''Tron-Legacy'' by playing with endless energy the charismatic Dean Moriarty, insatiable explorer of new vehicles, above all in love, - he was training every position, with one or several people at the same time, swinging both ways. Kirsten Dunst and above all Kristen Stewart are very good playing girlfriends always up for it, but inevitably disappointed when they discover that fidelity is not compatible with freedom. In hindsight, the travel of these pioneers can be seen as limited if we compare it to more radicals experiences of following decades, but it has the merit to be the first, and the actors succeed in sharing with us the excitement of the discovery.
3/4 stars on 4 reviews!
Thanks to
@mandytav
for the scans!
Translated by
source